Upon the retirement of Dave English at the end of the year, after being the director of Global Opportunities for 20 years – following in the footsteps of and being mentored by founder Ruth Siemens – it is my privilege to look back at Dave's legacy and accomplishments, as I see them from having been his co-worker for the past 16 years.
In 1999, GO was running one tentmaking course in the US each year. The course content was designed by Ruth and Dave to reflect on Ruth's decades of experience as the master tentmaker of the modern era.
It was Dave's vision to see the work of GO expand globally, and during his tenure the courses were run in an increasing number of countries and locations. In one year alone, the course was run in eight different countries. And it wasn't just courses, but people who were being trained and mobilized to work together to form tentmaking advocacy groups, and even organizations that would multiply the impact for tentmaking – while always being true to the foundational principles set out by Ruth Siemens.
Today, the course has been run in 13 countries and is still expanding. GO has been a critical component in helping organizations like Tent Norway get started. There are viable tentmaking movements in Brazil, Mexico and in many countries in Europe because Dave had a strategic vision for a worldwide tentmaking movement.
Dave had the opportunity to speak on tentmaking as far away as Japan, Thailand, Brazil, Finland, Norway, England, Nigeria, Uganda, and of course Canada.
Dave also launched a very substantial paper publication called GO World in 1994 which was widely read, referred to and quoted in the world of missions. It was the only such publication of its era and there has been no equal since it was discontinued in 2002 due to financial constraints.

As we still have the digital copies of all editions, we will be building a special section in our new website where they can be read and downloaded.
In his retirement, Dave is available to speak on behalf of tentmaking and is perfectly positioned to write a book on Ruth Siemens' legacy and her contribution to tentmaking. Ruth left behind hundreds of pages of her writing and only Dave knew her well enough to sort through it all to write the best book on tentmaking yet.
We wish him every blessing, as well as time to devote to his other passion of flying, and look forward to seeing this book published, which I will personally pledge to find shelf space for at major missions and Bible school libraries around the world.
Just remember this pilots saying Dave: "Any landing you can walk away from is a good landing!"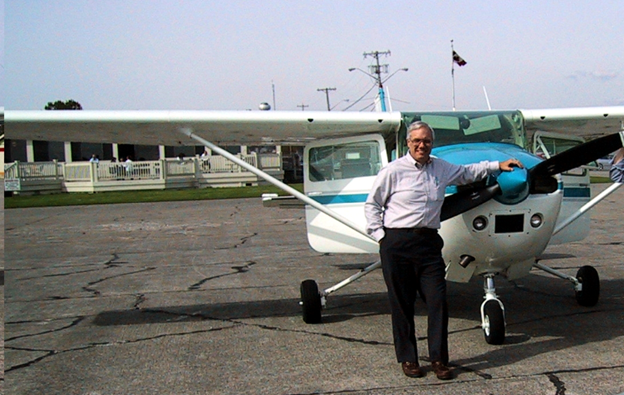 [TMT Editor: Global Opportunities now operates as Global Intent and may be reached at info@intent.org.]