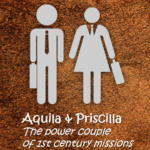 I have always been intrigued by Paul's tentmaker team members, Aquila and Priscilla. We are not privileged to a lot of information about them.
What we do know is that this power couple (Prisquila?) was among the earliest known Christian missionaries in the first century.
Aquila and Priscilla were business people who made tents, and Paul was one of their workers and ministry partners. They had been among the Jews expelled from Rome by the Roman Emperor Claudius in the year 49 as written by Suetonius, and they ended up in Corinth. After Paul had lived with them for approximately 18 months, they set out to accompany him when he proceeded to Syria, but they stopped at Ephesus, now part of modern Turkey.
They are mentioned six times in four different books of the New Testament and are always named as a couple and never individually.
Of those six references, Aquila's name is mentioned first three times and Priscilla's name is mentioned first on the other three occasions, which shows them as equals; however Aquila, as the man, is mentioned the very first time, thus being consistent throughout Scripture – the man is usually mentioned always first.
Let me introduce you to a missionary power couple!
    Acts 18:2-3: There he met a Jew named Aquila, a native of Pontus, who had recently come from Italy with his wife Priscilla, because Claudius had ordered all Jews to leave Rome. Paul went to see them, and because he was a tentmaker as they were, he stayed and worked with them.
    Acts 18:18: Paul stayed a while longer in Corinth, but then it was time to take leave of his friends. Saying his good-byes, he sailed for Syria, Priscilla and Aquila with him.
    Acts 18:26: When Priscilla and Aquila heard him, they took him aside and told him the rest of the story.
    Romans 16:4: Say hello to Priscilla and Aquila, who have worked hand in hand with me in serving Jesus. They once put their lives on the line for me. And I'm not the only one grateful to them. All the non-Jewish gatherings of believers also owe them plenty, to say nothing of the church that meets in their house.
    1 Cor 16:19: The churches here in western Asia send greetings. Aquila, Priscilla, and the church that meets in their house say hello.
    2 Tim 4:19: Say hello to Priscilla and Aquila; also, the family of Onesiphorus.
WHAT CAN WE LEARN?
With their ability and expertise in making tents, a much needed trade in the era, they did not have to raise funds to do missions. A tentmaking business was also quick to pack up and move to another location, which they did more than a few times.
This strategic plan allowed them to spread the Gospel quickly to various regions. I am sure they did not hunker down at work, (which apparently was done night and day according to Paul), and then plan their crusades for after work.
While at work, they undoubtedly shared their faith with co-workers, suppliers, customers and anyone who happened to drop by to hear of this Jesus whom they represented in word and deed. They did not separate their business from ministry, but integrated them into the rhythm of everyday life and work.
Aquila & Priscilla are my favorite BAM heroes in the NT.
By Ari Rocklin