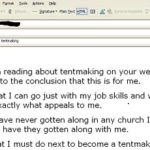 There are people who are confused about tentmaking. The term is not commonly used in everyday conversations. I once had a lady call the office so excited when she saw the announcement about our tentmaker training. She said I have looked all over and this is the first place I have found a conference to teach how to make camping equipment. Clearly in her excitement she had called before reading the course description.
For a discussion of the origin of the word tentmaking see the Rocklin article, "Why We Use the Term Tentmaking."
A greater concern is when people have an incomplete idea of how tentmaking woks in God's grand strategy. The email in the graphic is an actual message we received from someone who had an idea about tentmaking, but was not yet prepared to be a tentmaker. This person believed one of the MYTHS about tentmaking. There are a number of myths which people accept about tentmaking that hurts the cause. In the coming months we will discuss a number of them and hopefully set the record straight.
An earlier article addressed the MYTH that tentmakers work undercover, and are not always truthful. See Is It OK for Missionaries to Go Undercover? Today we look at another myth – tentmakers are Lone Rangers who don't need a sending church to do the Lord's work.
The reasoning goes something like this, "since I am going as a self-supported tentmaker I don't need a sending church behind me." Some go so far as to say, they have never found a church they could get along with and they are pleased that tentmaking provides a way to go without needing to have a relationship with the church.
This is wrong on so many levels.
God created and loves the church. How can you do his work of building the church if you are not a part of it?
The would-be tentmaker with relationship issues at home has no business taking them abroad.
How can one model living in fellowship with other believers and not himself be living a healthy relationship with the church?
Even when the tentmaker does not need financial support, a tentmaker depends on a faithful support team to back him with prayer, encouragement, and other kinds of needs.
Tentmakers are disciple makers. All disciple makers are themselves being disciple by someone else.
A tentmaker needs accountability partners to keep him focused and aligned with the mission of God.
The truth about tentmakers and the church.
They love the church and work to build her up.
They are sent and blessed by the church.
They communicate what God is showing them and show the church how God is using tentmaking to reach the unreached in the marketplace.
They depend on prayer and emotional support from a core group from the sending church.
They are accountable to God and to the church for their ministry.
They model godly living in Kingdom fellowship.
They are trained and equipped to be effective witnesses where God places them.
Every church needs tentmakers as part of its outreach strategy to carry the gospel where professional religious workers cannot go. Every tentmaker needs a church backing them.
Global Opportunities [now Global Intent] will not work with, and does not advise anyone to go abroad if they are not in a good relationship with a local church and are sent by them.
Now that you know the truth about tentmakers and the church ask yourself, who is God preparing for tentmaking from your church? Are they ready? Can they answer like the prophet Isaiah, "Here am I, send me."